Custom Sculptures
Metal Wall Art, Sculpture and Decor
For more than 20 years The Secret Cove has worked with private collectors, business owners, corporations and government to create custom works of art to meet their decorating needs. Our projects have ranged from custom metal wall art and fantastic jellyfish chandeliers to a 911 memorial. Click here for a partial list of corporate, government and institutional
Clients Served
.
Below are a few examples of past projects for your review. The examples can be ordered as shown or modified to suit your needs. Have a project in mind? Click here to
Request a Quotation for Custom Work
. Questions? Try clicking on
FAQs About Custom Work
Northwest artist
Ken Scott
produces custom wall-mounted sculptures as well as garden and other decorative structures. Mr. Scott is well known as the father of the Northwest style of metal sculpture. Among his favorite subjects are the mountains, waterways and coasts and wildlife of the Northwest.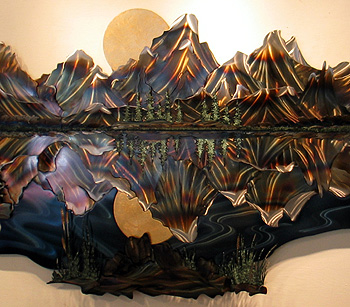 This photo shows a portion of one of Ken's custom wall sculptures, depicting a majestic mountain lake with a mirror image of the surrounding mountains and sun reflected in the water.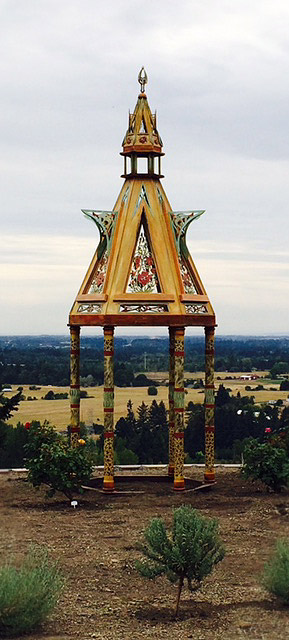 This image shows a custom steel garden structure recently completed by Ken.
Click on Ken Scott Custom Sculptures to see more examples of his custom work.
Glass artist
Joel Bloomberg
has done a number of custom projects over the years featuring variations of his Jellyfish Lamp design. Be it residential or commercial, Joel's creativity and skill has led to exciting results.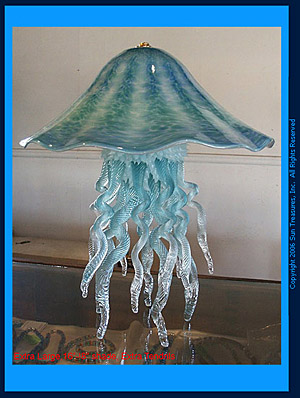 Above is a Jellyfish Lamp Joel made for a collector desiring a larger version of Joel's single dome lamp. The result is a timeless, captivating work of art.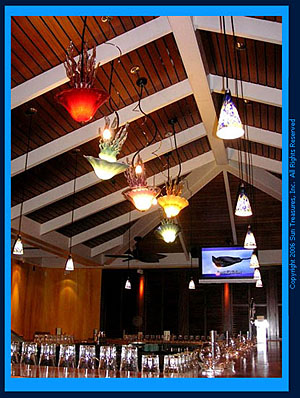 More words here about how great it is.
Click here for more
Joel Bloomberg Custom Jellyfish Lamps
.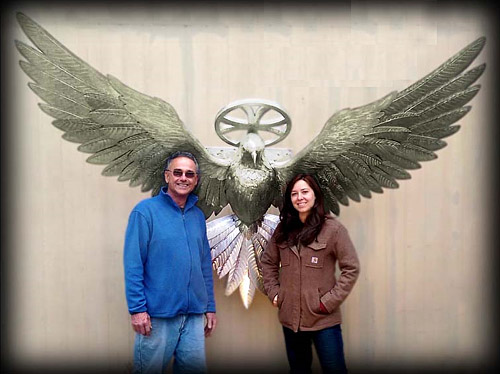 This large wall sculpture, "Holy Spirit Dove", created by East Coast metal sculptor
Gary Caldwell
and his associate, Holly Felice, for a church in Colorado. With its 8 foot wingspan, and wonderful detail, the stainless steel sculpture is a truly inspiring work of art. Below is a custom sculpture of a grove of trees, nearly seven feet in width.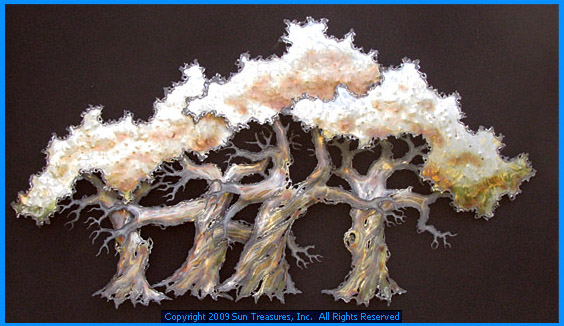 More of Gary's work can be viewed by clicking on
Gary Caldwell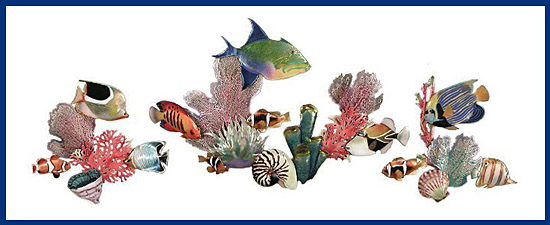 Bovano of Cheshire
creates exceptionally vivid custom sculptures that will light up any room. Shown above is a large wall sculpture covering nearly six feet, originally developed for a restaurant. Click
Bovano Custom Sculptures
to see more of Bovano's custom work or click
Bovano of Cheshire
to view their standard sculptures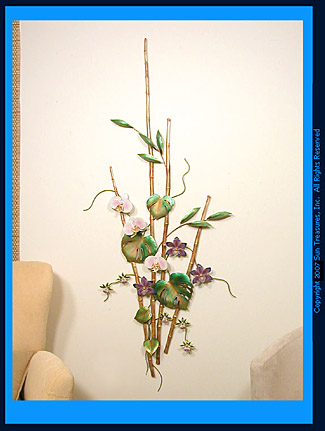 This elegant Bovano orchid wall sculpture, rich in color and flawless in execution, was created for a tropical decor.
FAQs About Custom Work
How much does it cost?

The costs depend on the magnitude of the project. If you request small changes to a production sculpture, the additional costs can run 10% to 30% of the price of the standard piece. If you request a major scale-up of a production piece, you can expect 2 to 4 times more expense, depending on the magnitude of the scale-up. A brand new piece can be much more expensive than an adaptation of an existing piece, because the artist must spend extra time designing the piece as well as determining how to best execute the design. These are very broad rules of thumb....each project is unique.

How long does it take?

The time involved is dependent on the complexity of the project and the artist's workload at the time the project is commissioned. The more time you can allow the artist, the better the results and the lower the cost. However, if your project has a short lead time, rest assured we will make every effort to meet your needs.

Can I return it?

Custom work, by its nature, is based upon your unique specifications. Because of this, custom work is not returnable. Yes, there is some risk involved that you may not like the finished product, but having said that, we can report to you that it is a very rare occasion that someone is not completely satisfied with the custom work they have ordered.

What if I want to make changes after work has started?

If you wish changes after work has commenced, we will provide a written estimate of the impact on cost and schedule for your approval. If you decide to cancel a project after work has commenced, you will be charged for work done up to the time of cancellation.

Do you provide installation services?

Generally, we do not provide installation services. Most custom work is relatively easy to install and can be done by a handyman. For more complex projects, it may be necessary to hire a local contractor.