Max Howard, Sculptor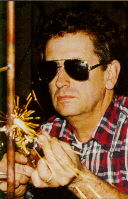 Max Howard's creative career began in 1968, while employed by a steel construction firm.
With his knowledge of metals and welding, he began creating lovely accessories for his home in his spare time. His wife, Jolynn, recognized his artistic talent, and encouraged him to enter some of his work in a local art show. After his art work was accepted into the show and viewed by the public, he began receiving invitations to other art shows. As the demand for his art spread, they were faced with the decision whether he should continue his work with the steel firm or seek a career in the art world.
Now, Max Howard Sculptures can be found in homes, businesses and galleries throughout the United States and internationally. Max and Jolynn's insistence on unique design and quality workmanship is apparent. The ability to capture the delicacy of nature, so realistically, from a hard piece of flat metal continues to intrigue admirers.