Tom Torrens, Sculptor

(And How to Care for His Creations)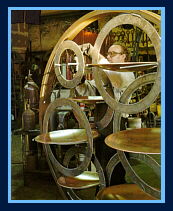 Using strong, simple forms and familiar materials, Tom Torrens designs works of uncommon strength and character. The past twenty years Mr. Torrens has striven to produce quality designed functional works of art from recycled and industrial materials which are pleasing to the senses. Drawing on a variety of contemporary influences, he creates sculpture that is a delight.
Mr. Torrens received his bachelors degree in Sculpture and Design from Indiana State University. He received his MFA from Washington University at St. Louis and taught sculpture on the University level for fifteen years. Mr. Torrens currently lives in Washington State with his wife and son where he maintains his design studio.
"I ascribe to the 'Less is More' philosophy whereas the design elements of my work are reduced to their simplest, most direct and refined form. Only in this way can the beauty, sound, and visual integrity of the sculptures be fully experienced. My influences and ideas are derived from man-made forms and concepts as well as natural objects and environments. I enjoy prowling salvage yards and factories as much as beach combing and wilderness treks. Influences also come from traditional architecture and artifacts of Oriental and Northwest American Indian cultures. Other elements I incorporate in my work are water, light, sound and movement. It is through these influences and concepts that I attempt to address as many of the viewer's senses and emotions as possible."
Desiring to spend more of his time designing new creations, Tom restructured his studio in 2004. He now concentrates on custom work and a limited selection of his most popular designs. With the exception of the World Globes, all works are now personally created by Tom in his Gig Harbor studio. Tom's World Globe designs are produced by Replogle, the world renowned globe manufacturer. As in the past, Tom uses recycled industrial materials whenever possible. The primary materials are formed and welded steel with a protective industrial sealant. The use of cedar, weather resistant corten steel, and hand spun copper are also utilized extensively. Because of the use of recycled objects, variations are found in each piece. This allows for each work of sculpture to be unique and individual.
Care of Tom Torrens Creations:
Most pieces can be placed out of doors to weather and age naturally to grow more interesting over time. If desired to maintain existing finishes, an annual coating of clear sealant is recommended. Acrylic or an epoxy base sealant may be used. Painted surfaces may be recoated with Krylon satin black.
Mineral deposits on the fountains are natural and can be removed with mild soap and water or, if desired, with a baking soda solution and a soft cloth. Waxing with any quality auto wax will re-enhance the color (Clear Guard by TurtleWax is recommended). Let the surface dry completely before refilling with water.
The fountain pumps require periodic cleaning to prevent debris and mineral deposit buildup. If the pump stops, it is most likely due to insufficient cleaning of the propeller shaft. Read pump instructions carefully to disassemble and clean. It is easy to clean and requires little time. Maintain water depth to ensure pump is submerged. The deeper water level, the higher the water action from the pump. Mr. Torrens recommends you remove the pump from outdoor fountains during prolonged periods of freezing temperatures.