Wall Art > Metal Sculpture > Bovano of Cheshire > Bovano Custom Sculptures
Bovano Custom Sculptures
Bovano's gifted artisans are available to create custom wall sculptures for homes or commercial decorating projects. The custom works range from changes to existing Bovano sculptures to completely new designs. Or perhaps you desire a "mural" of existing pieces to create a large scene. Bovano's artisans can work with you to create a mural by providing digital images of what the scene will look like. We present a few examples of past projects for your review. The examples can be ordered as shown or modified to suit your needs. Have something else in mind? Request a quotation.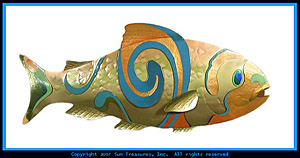 Art Deco Fish
37"w x 24"h x 4"d
Combining the centuries-old arts of glass enameling hammered copper, Bovano has created a work of modern art that is unique, stunning and original. Whimsical, yet mysterious, the sculpture fires one's imagination and draws immediate attention from those entering its presence. The glass enameling is used to provide a hint of art deco with vivid colors and an engaging design.
Heron Scene
Fireplace scene incorporating Bovano heron sculptures with natural wood. Click here for a larger image showing the entire scene.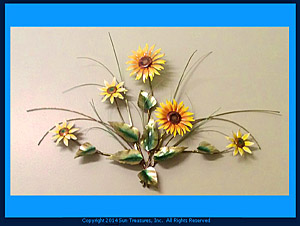 Sunflower Spray
28"w by 16"h
Custom Sunflower spray created for a customer redecorating her bathroom. A sketch was developed by the Secret Cove to help the customer visualize the appearance of the final piece before it was produced.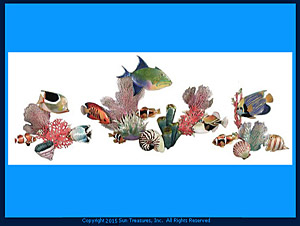 Coral Reef Scene
57"w x 23"h x 2"d
Originally developed for a commercial restaurant, the Coral Reef Scene, covering nearly 5 feet of wall space, includes coral, sea fans, sea anemone, shells, sponges and tropical fish to create a beautiful reef scene. Perfect for a coastal home, seafood restaurant, or coastal-themed commercial space. Can be expanded to cover additional wall space. Click here for larger view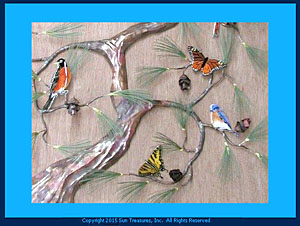 This custom pine tree sculpture measures 40"w x 40"h. It features a hand formed copper trunk with 3-D bark detailing. The branches of the sculpture contain six colorful songbirds, two Hummingbirds and three butterflies. Above is a close up view.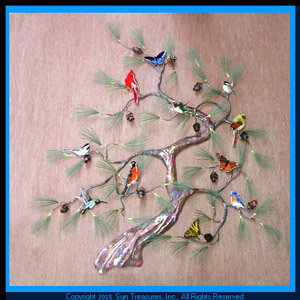 Above is an image of the entire tree. Click here for larger photo (may not display correctly on very small screen devices).