Wall Art > Glass Sculpture: Mark Hines Designs > Wall Clocks > Henry
"Henry"
Pendulum Wall Clock
by Mark Hines Designs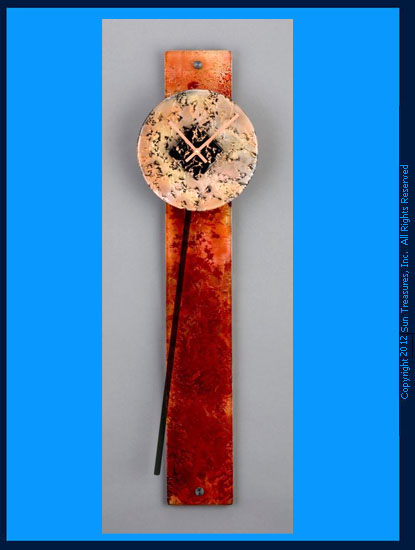 Color Shown Above: Granite/Red
More Color Choices

Red

(click to enlarge)

Dimensions
9"w x 34"h

Options
Color Choice

Price
$350.00




Number
HENRY
This design utilizes just two basic geometric shapes to achieve an elegant look for a tall, narrow wall space. It is crafted from hand-formed slumped glass using a reverse enameling process. The glass components are fired twice at 1500 degrees to achieve the bold colors and texture. The clock and pendulum are driven by two AA batteries that are shipped with the clock. No two clocks exactly alike. Choose from 2 color options.

Available for order. Usually ships within one to two weeks.
Click checkbox for desired color, then click "Add to Cart"