Wall Art > Glass Sculpture
Mark Hines Designs
Artistry in Glass
Wall Clocks and Wall Vases for Interior Decor.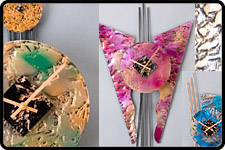 Mark Hines Designs Wall Clocks
Abstract wall clock sculptures created from kiln fired glass with loads of personality. There is a clock named Dottie and one called Pam; There is Erica and Gordon, Henry and Holly, all awaiting to delight you.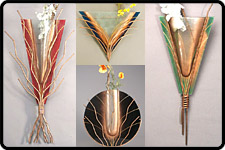 Mark Hines Designs Wall Vases
Abstract wall vases in hand formed glass to accent your decor with color and design. Each piece a vision of sculptural art, a bit Art Deco, a bit pure imagination.
Also see . . . .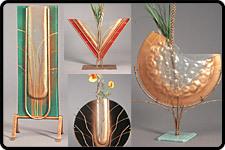 Mark Hines Designs Tabletop Vases
Mark's tabletop vases, each one a museum quality sculpture, with generation-spanning, timeless designs.