Gary Caldwell, Sculptor
Master metal sculptor Gary Caldwell creates truly spectacular wall art and freestanding works out of gleaming stainless steel. Using proprietary grinding and coloration techniques, he creates new dimensions for interior and exterior decor. Many of his works are very large, making them ideal for decorating wall spaces in executive homes, estates, restaurants, sportsman's clubs, office lobbies and commercial spaces. Pictured below is a large wall sculpture, "Holy Spirit Dove", created by Gary and his associate, Holly Felice, for a church in Colorado. With its 8 foot wingspan, and wonderful detail, the stainless steel sculpture is an inspiring work of art.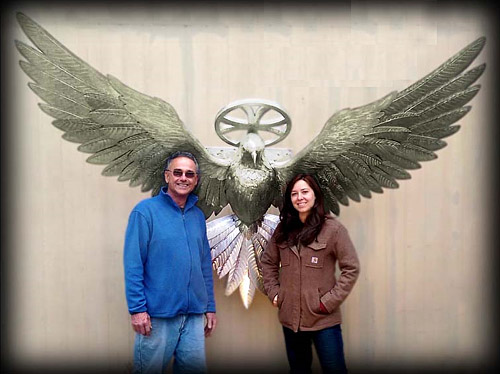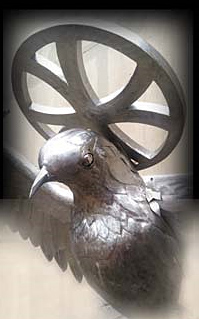 Another example of his magical transformation of a flat sheet of stainless steel into an object of wonder is his incredibly detailed sea turtle, measuring 4 feet wide by 3 feet tall.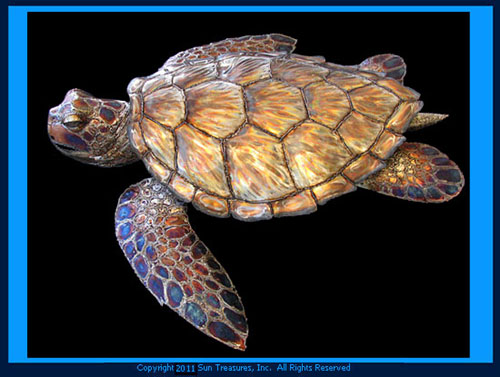 Gary achieves coloration and texture on his sculptures with a masterful application of up to 6000 degrees of heat and special grinding techniques that Gary has developed over span of thirty years. Light reflects wonderfully off of the stainless steel, causing the color to change with changes in lighting or the viewer's perspective.
Click here to view more of work.