Wall Art > Metal Sculpture > Gurtan Designs > Trees > Current Page
Willow Tree
Metal Wall Sculpture by Gurtan Designs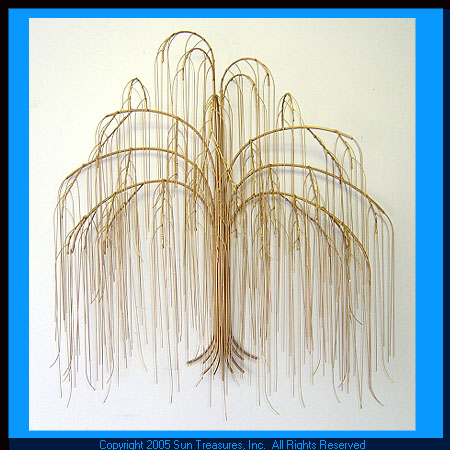 The graceful, flowing lines of the Weeping Willow make it one of our favorites. The drooping branches are made from dozens of hand cut and shaped lengths of wire, welded to the main branches. Made of copper-plated steel rod and wire and painted with a durable finish. Available in gold (above) or sea foam green.
Click here
to see the green version. Dimensions approximate due to hand crafted nature.
Available for order. Usually ships within 2 - 4 business days.

Dimensions
38"h x 34"w x 12"d
38"h x 34"w x 12"d




Option
Gold
Green



Price
$850.00
$915.00


Number
G6GO
G6GR


To order, click on checkbox; then click on cart below.


<!- - Close Row -->
<!- - Close Container - ->