Wall Art > Metal Sculpture > Gary Caldwell > Butterflies > Current Page
Butterfly Spray Style C
Metal Wall Sculpture by Gary Caldwell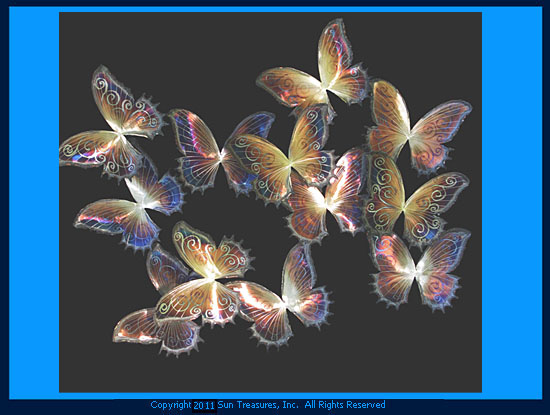 A Dozen hand-crafted butterflies form this delightful sculpture that is perfect for your garden room, atrium, or bedroom. Measuring 3 feet wide and 3 feet tall, it will indeed become an artistic focal point in the setting of your choice.

The beautiful coloration is achieved by masterful application of heat. Light reflects wonderfully off of the stainless steel, causing the color to change with changes in lighting or the viewer's perspective. Please note: the greenish colors are a function of reflected light and may not appear the same on all sculptures. This sculpture is suitable for indoor or outdoor use.* Each sculpture individually hand crafted, with no two being exactly alike. Note: the black background is not part of the sculpture.

*If used outdoors, the torch-cut edges may develop a light rust patina over time, but the other colored areas will not. In the event rust does develop and you wish to remove it, carefully and gently use a stainless steel wire brush to remove the rust from the edge areas. Be careful not use a wire brush on colored areas, as it will remove the coloring. Not recommended for outdoor areas exposed to windblown salt spray.

Available for order. Usually ships within 2 - 3 weeks.



Dimensions
36"w x 24"h x 7"d

Options


Price
$1295.00




Number
GC235