Tabletop Sculptures > Hessel Studios Candlesticks > Current Page
Candlesticks
by Hessel Studios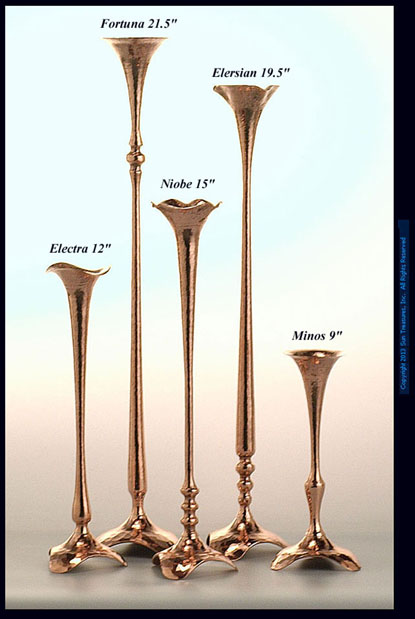 Hessel Studios is a small California studio employing skilled craftsmen to create highly refined, museum quality copper candleholders. Each candleholder is forged by hand using high-heat torches and different hammers to achieve the desired shape and texture.
Every piece is hand-wrought, having it's own eccentricities which adds to the beauty and value. The title of the piece is engraved on the underside of the base and stamped with the Hessel Studios proprietary service mark. Measurements vary due to hand crafted nature of the candle holders.
Available for order. Usually ships within 1 - 2 weeks.
Name
Electra
Fortuna
Niobe
Eleusian
Minos
Height
12.0" h
21.5" h
15.0" h
19.5" h
9.0" h
Price
$215.00
$319.00
$268.00
$310.00
$220.00
Number
HS800
HS801
HS802
HS803
HS804

To order, click on checkbox; then click on cart below.


Gregg Hessel's designs look beautiful singly, paired or in a grouping of different heights. The studio recommends beeswax tapers for their slightly sticky surface that works well with the candleholder's tapered openings. The candleholders are delivered with a highly polished finish. Copper will naturally darken over time unless it is polished from time to time. Many people prefer the natural patina and choose not to remove it. For those who prefer the polished look, occasional use of a good silver polish or a product called "Simichrome", along with periodic buffing with a soft dry cloth, will keep the candleholder looking as fresh as the day it was produced. Dripped candle wax can be removed by holding the area under hot tap water until the wax is soft enough to be wiped away with a soft cloth. Remove all moisture from the surface of the metal; water can spot and discolor copper. Never use anything sharp or abrasive on copper to remove wax.