Jellyfish Lamps > Current Page
Custom Jellyfish Lamp Reef Scene
by Joel Bloomberg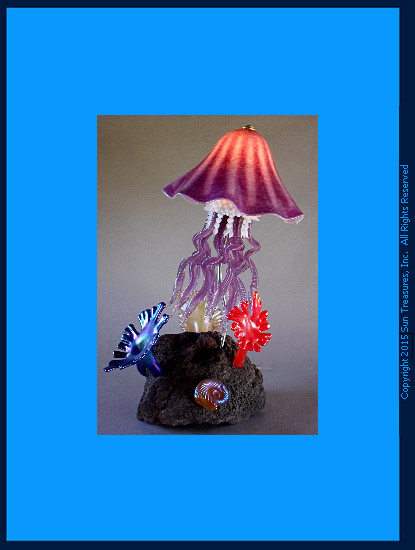 Joel's takes his famous Jellyfish Lamp sculpture to a new level with the creation of a reef scene. In addition to a gorgeous lamp, the scene features blown glass sea anemone and a snail perched on a piece of natural volcanic rock (size and shape varies). Each element of is hand formed with loving attention to detail.
Available with a single dome (shown above in lavender) or a double dome, similar in appearance to the standard double dome lamp (
click here
to view the difference between single and double). Included is a 40 watt bulb with a two-way switch. Sizes are approximate and will vary somewhat do to the hand crafted nature of this sculpture. Available for Order. This custom lamp is made to order and usually requires 60 - 90 days to produce.

Style
Single Dome
Double Dome

Dimensions
24"h x 18"w x 10"d
26"h x 18"w x 10"d

Price
$1600.00
$1895.00




Number
JB800
JB850


Below is the pallete of available colors (note: the images are intended for color reference only; they are not images of the reef scene). Click on image to view larger image


To order, click on checkboxes for desired style
and color (one only); then click on cart below.