Jellyfish Lamps > Current Page
Jellyfish Sconce
by Joel Bloomberg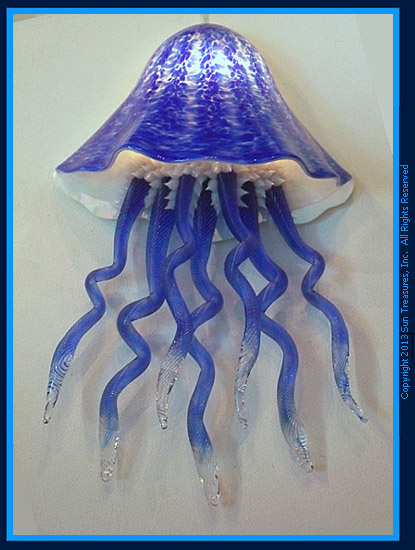 No Jellyfish Lamp collection is complete without Joel's fabulous Jellyfish Sconce. It can be installed upright or inverted, or angled in any direction to get just the look that you desire. Perfect for illuminating a stairway or creating a grotto in your bathroom. The Jellyfish Sconce can also be used in conjunction with a Jellyfish Chandelier to achieve a wonderful effect. Each element of is hand formed with loving attention to detail. The artist thoughtfully includes a 40 watt bulb with a two-way switch. Pictured above is a Cobalt sconce.
Available for order. May be in stock, but usually ships within 60 - 90 days. If not in stock, order is subject to your approval of delivery schedule. For current availability, call 800 821 1946 or email

Dimensions
21"h x 13"w x 13"d

Price
$1100.00




Number
JB700


Below is the pallete of available colors (note: the images are intended for color reference only; they are not images of sconces). Click on image to view larger image


To order, click on checkbox; then click on cart below.