Garden Sculpture: Tom Torrens > Saucer Fountain Box-Beam Base
Saucer Fountain, Box-Beam Base
By Tom Torrens Sculpture Design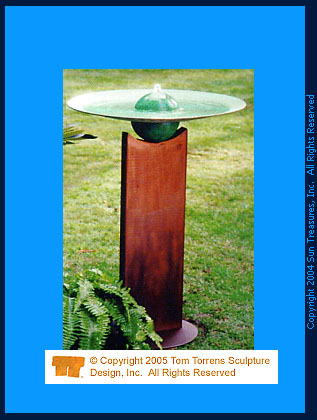 Dimensions
40"h x 30"w

Options
Weathered Base
Black Base

Price
$1975.00




Number
TT0016
The strength of steel and the elegant geometry of the base of this fountain results in a bold sculpture, counterbalanced by the gentle motion of water flowing from an opening in the top of the sphere and collects in a wide, shallow pool. The pump is hidden inside the sphere and the cord runs down through the center of the base. Water is added simply by pouring it into the saucer, so no water hook-up is required.

Verdigris copper fountain with steel base. Base available in black or weathered finish (weathered shown). Recirculating pump included.

Please note: Free shipping is not available for this item. An 8% shipping charge will apply within the Continental U.S.

Made to order, usually 3 - 4 weeks for delivery.

Click or tap here for information about Tom and how to care for his creations.


Click check box for desired base color, then click "Add to Cart"