Garden Sculpture: Tom Torrens > Rudder Bell
Rudder Bell
by Tom Torrens Scupture Design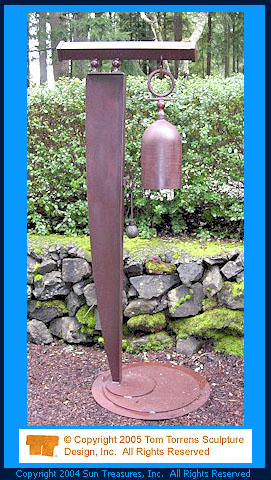 Dimensions
84"h x 36"w x 30"d

Options
Weathered Finish
Black Finish

Price
$3095.00




Number
TT0728
Ahoy there! For those who love nautical artifacts, this bell is sure to please. The stylized steel "rudder" serves as a mounting post for a bell trimmed with a representation of a cleat just below the mounting ring. Standing approximately 7 feet tall, this bell makes a striking (no pun intended) addition to your garden, entryway or backyard dock.

Can be displayed indoors or in the garden.

Steel frame with weathered finish (shown) or black. Weight approximately 170 lbs.

Made to order, usually 3 - 4 weeks for delivery. Shipped via Truck. Shipping charges apply.

Click or tap here for information about Tom and how to care for his creations.

To order, select the checkbox with the desired finish, then click "add to cart". Please note: an arbitrary shipping charge will be shown in the shopping cart. The actual charge could be more or less depending on your location. Your approval of the actual shipping charge will be requested before the order is processed.