Garden Sculpture: Tom Torrens > Poulsbo Gong
Poulsbo Gong
by Tom Torrens Scupture Design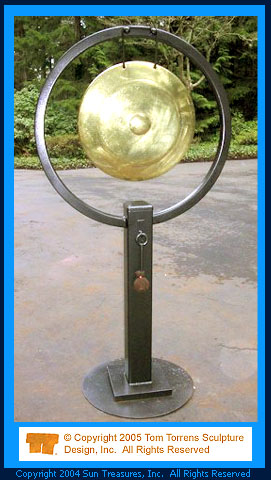 Dimensions
76"h x 36"w x 24"d

Options
Weathered Finish
Black Finish

Price
$2495.00




Number
TT0863
This gong achieves a more formal, traditional look by employing a rectangular steel post to support the gong frame. The 24" gong is solid brass. When gently struck by the raw-hide covered striker, the solid brass 24" gong produces an inspiring tone.

Can be displayed indoors or in the garden.

Steel frame with black finish (shown) or weathered. Weight approximately 90 lbs. Striker included.

Shipped via Truck. Shipping charges apply.

Made to order, usually 3 - 4 weeks for delivery.

Click or tap here for information about Tom and how to care for his creations.

To order, select the checkbox with the desired finish, then click "add to cart". Please note: an arbitrary shipping charge will be shown in the shopping cart. The actual charge could be more or less depending on your location. Your approval of the actual shipping charge will be requested before the order is processed.